POLYCOLD FAST CYCLE WATER VAPOR CRYOPUMP SPECIFICATION
---
The Polycold Fast Cycle Water Vapor Cryopump (PFC) effectively captures water vapor, which comprises 65% to 95% of the residual gas in high-vacuum systems. Water vapor is typically the most reactive contaminant present. With the PFC system, you can expect to increase product throughput in your existing system 20% to 100% and improve quality of deposition.
The PFC Advantage
High-vacuum pumpdown time cut by 25% to 75%
High-speed pumping of water vapor: up to 70,000 l/sec in the workspace
Increased product throughput of 20% to 100%
Typical payback times of less than one year
Lower water vapor partial pressure during processing for higher film quality, better adhesion and more reproducible deposition
Superior in cost/performance to liquid nitrogen cooled Meissners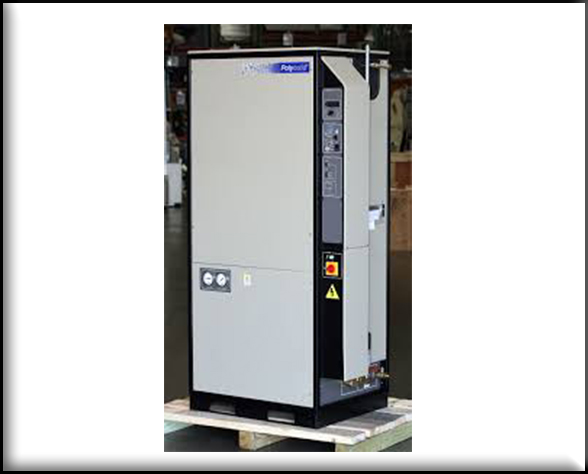 When added to your vacuum system, the PFC Cryopump can dramatically reduce pumpdown times and increase product throughput. The PFC will pump water vapor within minutes from "start" and can defrost in less than four minutes, giving true fast-cycle capability. For your system, this means more production cycles per shift. Pumpdown times are typically reduced by 25% to 75%, and increases in product throughput are 20% to 100%.
Using Polycold's patented cryogenic refrigeration process, and patented refrigerant mixtures, the PFC works on the principle of Meissner trapping. Water vapor is captured by condensation on a cryogenically cooled surface, called a Meissner coil. The Meissner (cryocoil) is mounted directly in the vacuum chamber so conductance is not limited by ports, manifolds, valves and baffles. The cryocoil is easy to install and can be adapted to fit any system. It does not need a high-vacuum valve.
PFC Cryopumps are the most cost-effective pumping upgrade you can add to any diffusion-pumped, turbo-pumped or helium-cryopumped system. A control module allows you to have either local or remote operation, enabling you to operate the PFC from your existing controller or processor.
The PFC is available in a variety of capabilities and cryocoil configurations. Models are available that control two cryocoils or the combination of a cryocoil and a baffle. Please refer to Product Specifications and to our PFC Price List for price and option details.
CRYOGENICS
Comparison of Cryopumping Speed and Pressure - 60hz
Comparison of Average Temperature (A) and Cryosurface Temperature vs. Heat Load (B) - 60hz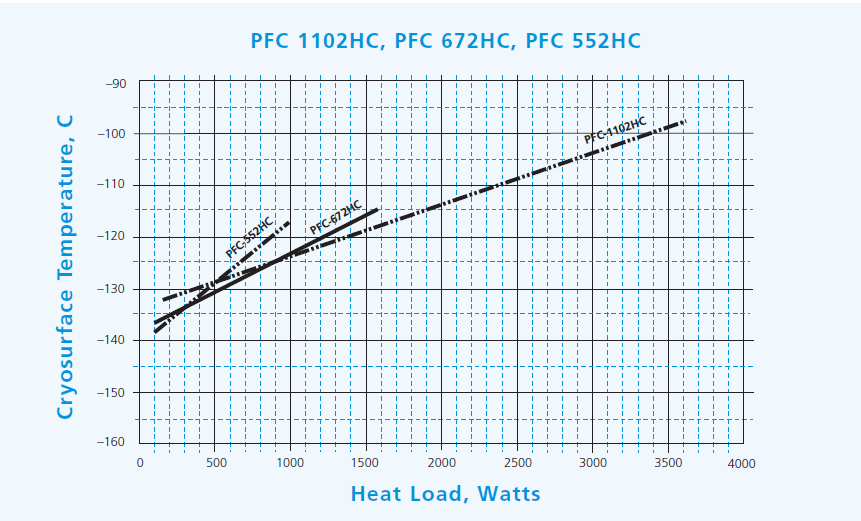 NOTE:
emperatures shown are the average of the inlet and outlet using recommended cryocoil size.
The temperature differences between inlet and outlet are typically 20˚C at Maximum load.
The end point of each curve is the maximum load for that model.
Performance at 50 Hz is typically 3 to 5°C warmer than the 60 Hz performance shown
---
PFC Dimensions and Weight (not to scale)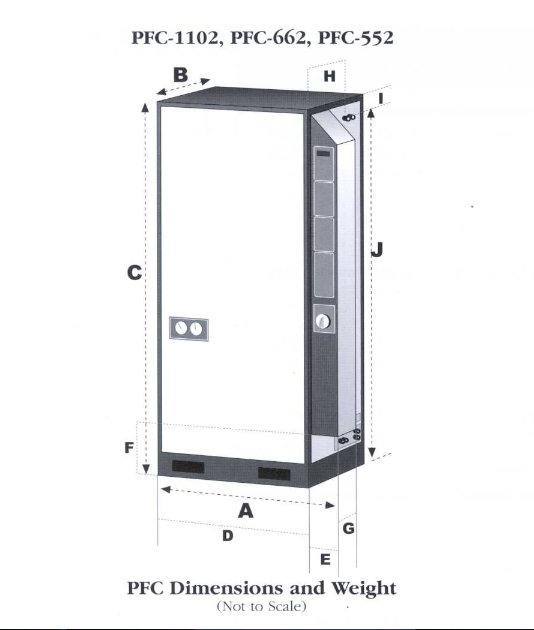 Temperature Setpoint Relay
Indicates that the selected temperature is colder than the predetermined setpoint. Inside the module, the setpoint can be adjusted between -80C and -160C. When the temperature from the input thermocouple drops below the defined setpoint, a thermocouple limit switch lights a lamp on the panel and closes a relay contact which completes a circuit to the remote connector. Customer decides at time of purchase which location is to be dedicated to the setpoint.
Second Temperature Meter with Setpoint Relay
Provides continuous readout of temperature and setpoint status for a second thermocouple position in a location of customer's choice.
Remote Meter with 50 foot electrical cable
Isolated Electrical Interface for User's Controller
If you want to control the PFC unit remotely with other than switch closures, your control voltage and the PFC unit must be electrically isolated. To meet this requirement, the optional isolated relay interface is available in 6, 12, or 24 volts, 50/60 HZ AC or DC. (Specify desired voltage at time of order.)
Remote Temperature Indicator Meter
This is a separate digital meter that is not installed in the PFC unit. It allows the user to read the analog output signal from the installed temperature meter at a remote control panel up to 50 feet away.